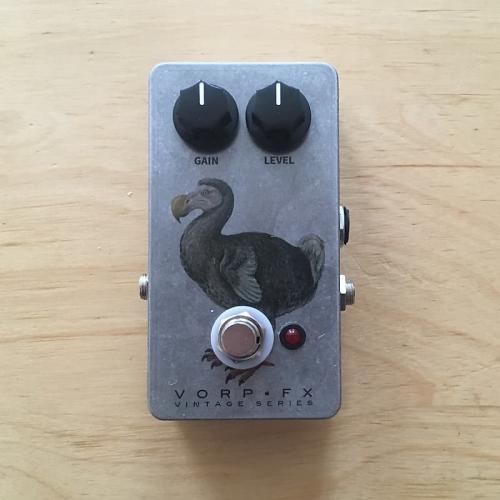 The Vintage Dodo got its name from the fact that it's my version of the very first version of the famous "gray box" DOD 250 from circa 1976 (as opposed to the Yellow Dodo, which was based on the 1998 version). It is a hard-clipping distortion circuit using an LM741 opamp and silicon diodes. As with all these circuits, the Gain knob doubles as a tone control of sorts as more high frequencies and overtones are dialed in as you turn it clockwise.
PEDALS MADE: 1
CURRENT STATUS: SOLD OUT
FUTURE AVAILABILITY: NO

Building the Yellow Dodo had sparked my interest in the original gray box version of the famous DOD Overdrive Preamp 250. Since these are not cheaply available on the market, I decided to build one following the design of mirosol. I also tried a somewhat "vintagey" design for this one, which came out of the printer in a very different way than intended, due to wrong printer settings and an incorrect adhesive. It still looked cool though, and it sounded fantastic, so much so that I decided to build an expanded edition of it with a few more options and sell this one. Thus, the Vintage Dodo has been a one-off pedal. At the time of this writing, it is in Portugal.
I'm not planning to build additional copies of it. If you are interested in this circuit, check out the Double Dodo, which offers the same great sound and more versatility.